What's the buzz about NFT
The popularity of NFTs is still taking the crypto world by storm, and for a good reason. NFTs offer ways to own something unique and different from what traditional assets can offer. This fascinating trend is different from cryptocurrency in the manner that it's a huge investment tool with lots of benefits:
–   utility
–   ownership history
–   underlying value
–   perception of the buyer
–   liquidity premium
–   future value
NFT development includes different technologies, such as non-fungible tokens, smart contracts, dapp frameworks, blockchain programming languages, and transaction protocols.
So how can NFTs improve your existing products and services to take your business to the next level?
And where do you start?
There are platforms and marketplaces to mint your product. The main difference between them is how you prefer to run this business. Since, the market is huge, the number of NFT marketplaces is also increasing and follows the same procedure – to store NFTs and sell them. Another way of trading your NFTs is your personal and unique platform.
So this is where the main question appears: what option to choose – nft marketplaces or your one-to-one nft website? Let's look closer what exactly can benefit your business.
What is NFT minting platform
Minting is an essential process, which implies platforms (minting websites) to use, it's the process of creating an NFT and "registering" digital assets on the blockchain.
This software program is an NFT Minting Application, which is a cost & time-effective model with more simple minting processes, which can create the question, how much does it cost to make an nft more transparent?
On your own e-commerce platform that can optionally even be integrated with marketplaces, you can store NFTs, connect your wallet and connect to a blockchain ledger.
So which trading option is more suitable depends on how unique you prefer to be and what benefits you can achieve in the bigger picture.
Why do you need a minting website?
Your own NFT platform allows you to create custom personalized business construction and build up your own branded marketplace under your full control.
Having your personal platform means you don't need to think how much does it cost to create an nft project – everything is already yours.
Let's find out why it can be more profitable than NFT Opensea, Solsea or any other general marketplace.
Business benefits of minting website
 

Pay less

You pay no fees. Most NFT marketplaces charge fees for listing and trading (for example, Opensea charges 2.5% fees on each trade)

 

 

Earn more

Royalties! Every time an item from your collection changes hands on the secondary marketplace like OpenSea you get paid a % of the sale amount.

With a 15k ETH volume traded on OpenSea (for example https://lnkd.in/eubUrMFW) at just 5% royalty that's a 750 eth in just royalties alone! Mind-blowing isn't it?

 

Better market visibility  

You can

create an nft project

that can be unique and personalized, will define your business, and allows you to establish your brand.  Custom minting platforms are more SEO friendly, which ensures that your website gets better visibility in search engine result pages to promote sales.

Whitelist

Giving priority access to mint to a selected group of people to avoid "gas wars".  More on this you can find in our later reviews.

Delayed reveal

Your buyers will see a placeholder image when they mint until the official reveal date

Investors traction

Business owners can use your NFT platform as a tool for launching their products

Security

You can implement strong security measures to prevent your software from ruining the website
As it's a custom platform you can always add some extra options, but the features that your website must have include the following:
–   An outstanding page design
–   Eye-catching first page
–   Your project's story
–   Community links, such as Discord and Twitter
–   Team
–   Various filter and search options
–   Minting NFT functionality
–   Buying functionality, like shopping cart
–   Digital wallet integration, like Metamask
–   SEO Optimization
–   DDoS protection
Some inspiration for the NFT
Here we'll list some of the elements that can be included in the website on real examples. You can find more examples on Behance or Dribbble.
For example, kaijukingz.io shows us a great roadmap of the project in the screen below: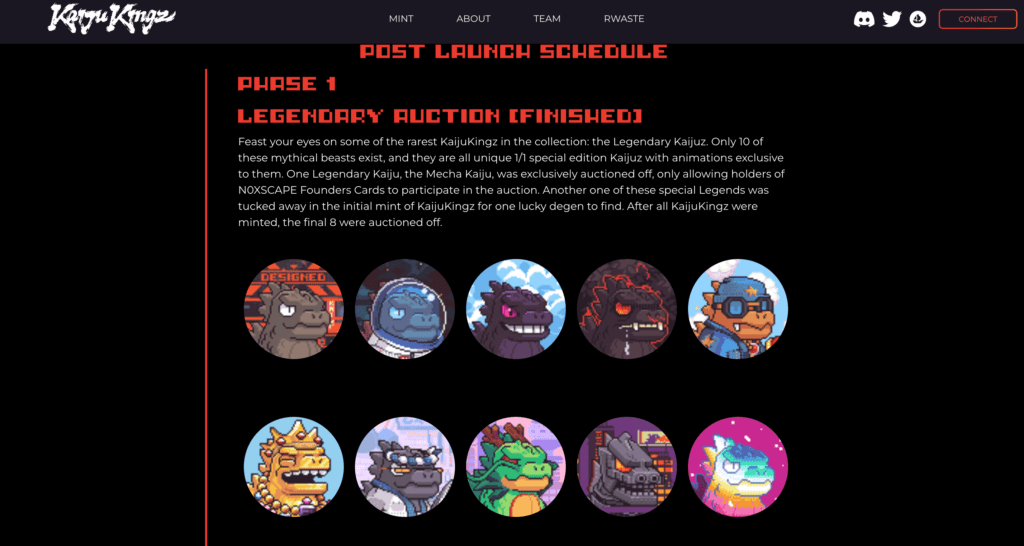 And a good example of a pre-release timer that you can add before launching the NFT is below in Kisaki project web page: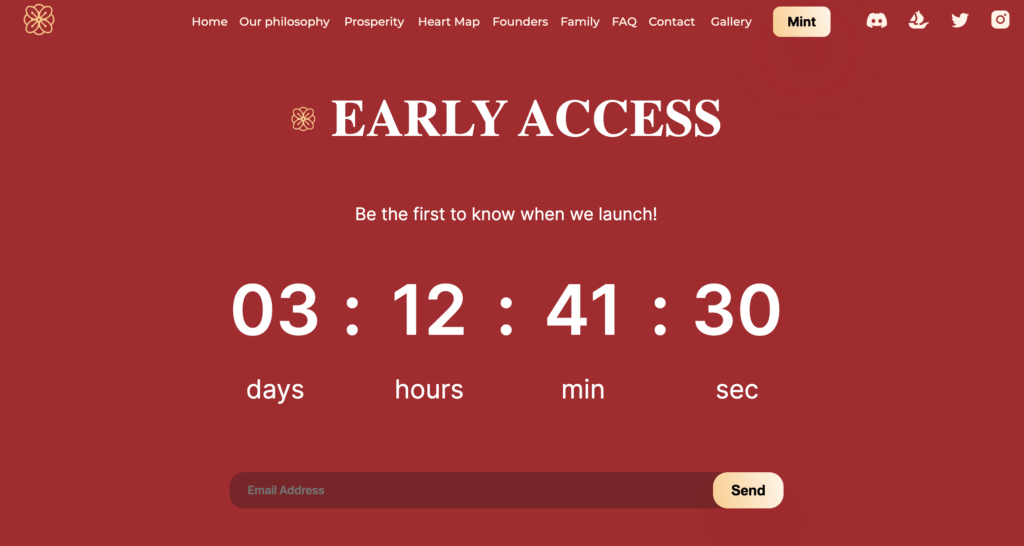 Also, the Santaminers present a good screen for the overview of the collection: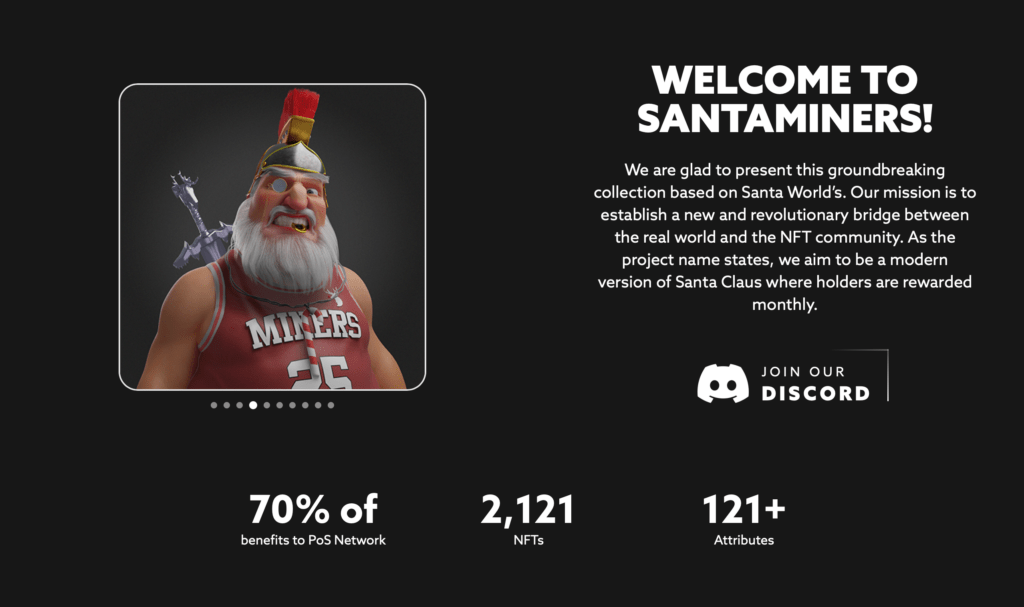 Creating NFT Website Process
 

Target Market

To provide users with more value and attract attention to your product you need to choose the right niche (games, music, art, sport, avatars, etc.).

 

Requirements

Deciding the appropriate blockchain platform for your NFT marketplace is the crucial question. For example, the most popular blockchain that artists prefer when it comes to NFT is  Ethereum, though  Solana is the next biggest player in the market, well-known as the "Ethereum killer", so if you seriously think about

how to make solana nft

– take a look how it has faster and better transactions for the users.

Smart Contract Development

To create and manage unique digital assets you need to make sure your  Smart contract protocol development works properly.  Back-end is the logic of the custom NFT platform, which is decentralized and most of the data is verified on a blockchain.

Pay extra attention on all Security issues with the basic tips here OmiSoft

UX/UI design

UX/UI is the golden mean between usability and the perfect look of your website. For example, use animation wisely to avoid the website's overload.

Front-end development

This stage implies developing platform's fast operation, good performance, and reliability. We can recommend choosing React or WordPress based on your requirements.

Integration of smart-contract and APIs

According to your business needs you can create the Wallet just for your website or it can be integrated into the system using different APIs with different functions.

 

Launching

Once all the testing processes are done, and your platform is bug-free,  it's time for the Big Launch. We recommend AWS or DigitalOcean you're your cloud-based services to incorporate web hosting, data sharing, and software use.

And as always, don't forget to pay attention on Security issues.
Cost Breakdown
To determine how much does it cost to create an nft website you have to understand what exactly you need.
It will depend on the features and the complexity of the smart contract and the website in general, same as your developing team location can affect the price.
Normally, the standard NFT website with the simple smart contract can vary from $5K in Eastern Europe and from $10K in the USA.
The more complex platform you want to build, the more money you will have to invest. Depending on the level of customizations you need, features and location, the NFT marketplace cost may increase up to $20K – $30K.
To reduce the expenses you can get a free consultation and our development team can offer you the standard website for $3K.
If you want to know more about the costs – just read our article on the cost of NFT collection .
To Sum Up
The whole NFT market has a promising future due to its potential. However, you may understand how NFT platforms work and what features you need to increase your chances to succeed with a unique platform that fans of digital art will love.
As a business personality, you may choose a well-designed personal NFT website that can increase your sales. And for developing this kind of NFT minting platform experienced nft developers are essential.
Our professional OmiSoft team is happy to chat through all of your options in more detail. We are ready to help you to find ways to innovate and stand out from the crowd.
Contact us today to find your personal NFT solutions and turn your idea into success!
Contact Us!
See more about our Blockchain Development Service
Read more