The popularity of NFTs is driving a lot of artists to consider turning their works into NFTs. But will it cost a fortune? Our crypto company has all the answers!
Non-fungible tokens (NFTs), blockchain-based digital assets which are unique and non-divisible, have become a hot topic in the crypto space and blockchain companies. Many artists and creators in all kinds of industries are considering whether or not converting their artwork into an NFT will be profitable, but there's more to it than meets the eye. 
The main focus here is on investment because, in addition to all necessary fees and admin expenses, you'll also have to pay for any NFTs that you create and blockchain app development services. In this article, we'll see how much it costs to create an NFT collection.
Some people create their collections by purchasing items from other sellers or by producing their own NFTs with the help of a cryptocurrency development company. But the majority are looking to launch their own NFT collection. So, let's focus on how much it costs.
Some examples of the NFT Collections: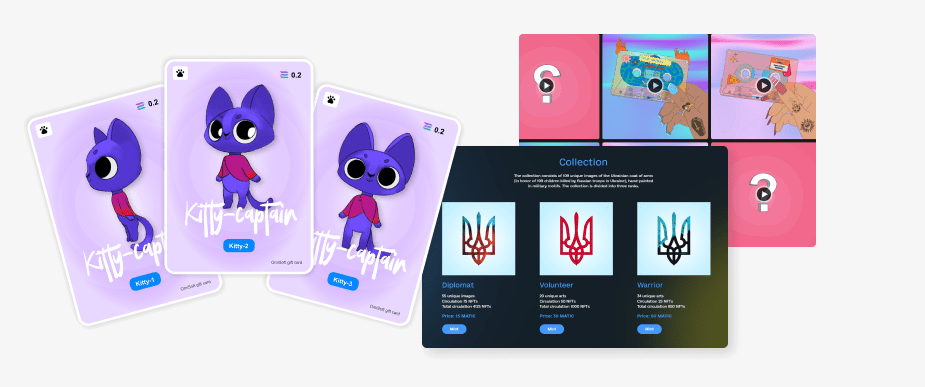 Breakdown of NFT Cost
The first thing that you should know about NFTs in cryptocurrency development is that you may have to pay some fees when you create your NFTs, depending on which site you use. You may also need to pay gas fees associated with creating them or for site fees or other costs. These fees can add up, so think about how much you're willing to spend before making any decisions.
As a blockchain development company, we should say that it's possible to avoid transaction fees, as there are new platforms that allow deferring fees for buyers. For instance, you might defer them or mint NFTs that don't include blockchain fees. And when you do have to pay a fee, it doesn't need to be expensive. Plan properly, so you can spend as little as you like getting started on this process.
Therefore, NFT Minting costs are divided by complexity:
| | | |
| --- | --- | --- |
| Collection Cost | Time | Cost |
| Standart NFT Collection Minting with custom smart-contract | 2-5 days | $500-$1000 |
| Premium NFT Minting  smart contract with whitelist, delayed reveal, and other features that you may need in marketing  | 2-5 days | $1000-$2000 |
| Standart NFT Minting Website | 1-2 weeks | $3000-$4000 |
| Complex NFT Minting Website with custom integrations | 3-5 weeks | $5000-$8000 |
If you are curious about NFT minting costs, our blockchain development services company wants to dive in a little bit deeper to tell you everything about minting and estimate expenses.
What is NFT Minting?
Creating your NFT collection is the biggest part of getting involved in the crypto-collectibles market. This could be digital art, Tweets, memes, books, audio, video, images, or anything else that qualifies as part of the NFT collectible space. Many top crypto companies swear by NFT and invest a lot in obtaining digital assets in various ways, as the list of existing NFT opportunities is still growing and changes all the time. 
Before you start minting NFT, you'll need to check if you have a good crypto wallet and pick a specialized platform to which you'll upload your content. If you don't have one yet, book a consultation with our blockchain app development company. When you'll get everything in place, your content could be transferred to the blockchain and you can list your minted NFTs for sale. 
You can do fixed pricing, auctions, and more. Here are some other blockchain dev team tips for minting and creating your NFT collection to help keep the costs down:
With vast experience as a

blockchain company

, we recommend minting at night, as you can benefit from a less busy network, and therefore lowers fees. The other time you should avoid is weekends, as that's the period when the network is swamped. So, weekday nights are pricewise the most beneficial.

Choose the right currency. Make your research, as sometimes, there's a big difference. For instance, Polygon is cheaper upfront on gas fees but it's less popular than Ethereum.

Our

blockchain technology company,

uses

gas-optimized smart contracts to assign ownership and manage the transferability and get the best final cost for a project. And we also recommend following our example.
The world of cryptocurrency is still very new, but non-fungible tokens are becoming quite popular and blockchain app development, as well as crypto projects, are booming. With this cost guide, you should be able to create your collection without breaking the bank.
Request a free NFT Collection Development quote
Get a quote
If you have any ideas and questions about launching NFT collections and their cost, hit OmiSoft up! Our blockchain application development team is ready to create optimized solutions to fulfill your needs.