$ 20000 +
MRR grew from $0 to $20,000 in 12 months
4 people
in the development and support team
2 months
months for development
Project Overview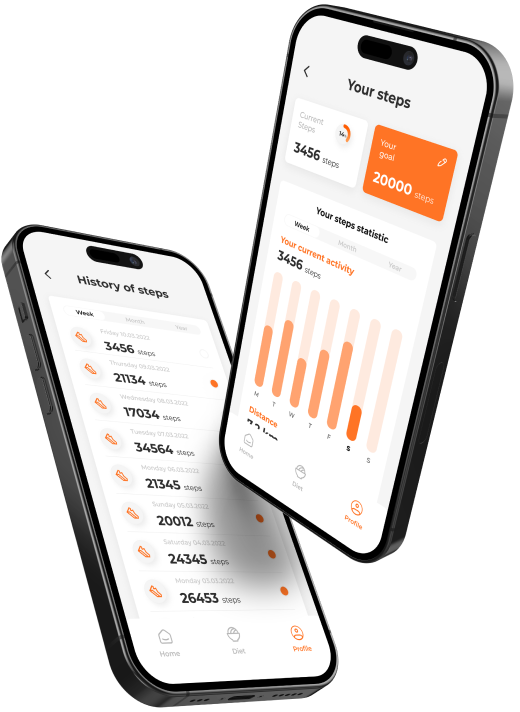 Industry: Health & Wellness
Client Location:
Ukraine
Solution:
Create diet plan app with integrated monetization features and smooth Google Analytics Firebase integration; make a mobile app design UI UX; provide all the visuals for the marketing team; and provide initial support for the product post-launch.
Pain points / challenge:
Diet and nutrition app development with monetization features and in-depth analytics to fit the provided marketing strategy
Services used:
Business Challenge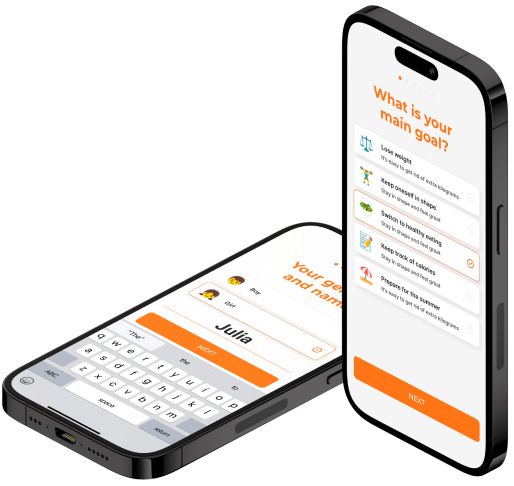 Main Challenges
Our clients, a group of forward-thinking marketers, came to us with a challenge to transfer their unique diet app idea to the online sphere. They had a solid marketing plan in place, but the essential missing component was a top-notch iOS app with effective monetization and Firebase Google Analytics integration.
From Ideation To Execution
They required a professional development partner who would specialize in app development for iOS. That's why they contacted us: to turn all of their ideas and professional vision into reality in order to actually implement their marketing concept and achieve long-term goals.
Solution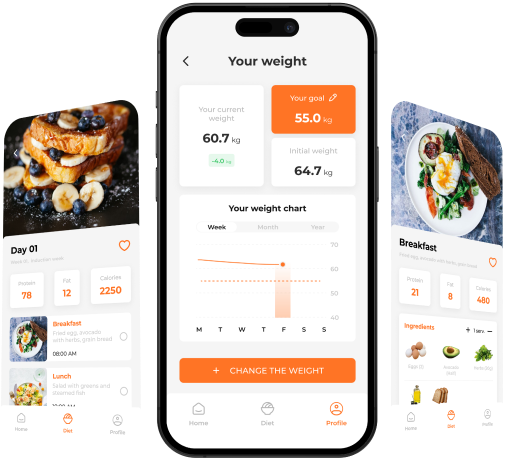 In the beginning
OmiSoft always strives to transform ideas into perfect digital experiences. In this case, the task was twofold: create a compelling iOS app while also offering comprehensive quality assurance in app development and delivery.
Diet planner app development
We started the project with careful diet planner app development for iOS. Our specialists incorporated working monetization features and Firebase GA4 integration, guaranteeing a data-driven foundation for further decisions.
Mobile app development
Our iOS mobile app development team created important marketing materials, such as intriguing screenshots, eye-catching banners, and compelling presentations, in close collaboration with our clients. The project's scope included more than just meal planning app development; OmiSoft was in charge of overseeing the initial product launch and continuing support while also ensuring a perfect user experience.
Tech Stack used
iOS SDK
Firebase Analytics
Swift
AdMob
APNS
Business Results
Why Outsource?
It was a smart move for our forward-thinking clients to outsource iOS app development to OmiSoft, as that allowed the product to achieve incredible things. This case is really a phenomenon. Why? Let's take a closer look at business results.
Rapid Revenue Growth
The diet app's MRR increased drastically from $0 to $20,000 in only 12 months. This growth proved that the product was spot-on for its intended market and that the monetization approach was successful.
Further Collaboration
The diet app's success encouraged our clients to continue working with OmiSoft. We have once again put our skills to use by creating a product for the same customer.
Profit Margin Far Exceeds Expectations
The net profit margin was much higher than the target of 30%. This success demonstrates the app's long-term viability and the effectiveness of the company's marketing approach.
Conclusion
So what's the conclusion? Innovative marketing minds working with savvy programmers may change the world. The diet app's rapid climb from idea to high-profit reality showed how a strategic approach to development and marketing can propel a product to new heights in today's crowded digital market.